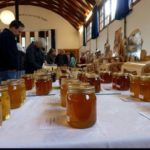 Local honey from our members can be found in the following outlets.
And of course you can trust it; you know that it is 100% pure honey from local bees, unlike some other supermarket honey's in the past !
Outlet
Location
"Honey I'm Home"
Squire's Hersham, Burwood Road, Hersham, Walton-on-Thames, KT12 4AR
Hilltop Farm Honey
Lyne Lane, Lyne. 078807 36205
Boz's Fruit & Veg
High Street, Horsell, WOKING, GU21 4SX
Chobham Country Market
Chobham Village Hall, Station Road, Chobham, GU24 8HQ. 9.30-11am, Thursday only
Julie Dixon
21 Kingston Rise, New Haw, KT15 3EY. 07813 027055
Hammonds Butchers
135 Hersham Road, Walton-on-Thames, KT12 1RW
Whiteley Village Post Office
Circle Road, Hersham, Walton-on-Thames, Surrey
KT12 4DT
Painshill Park
Cobham, Visitor Centre
Prince & Sons Butchers
Horsell High Street, Woking, GU21 4SY
Revive Coffee Shop
99 Guildford Street, Chertsey, KT16 9AS
Rob & Chris Chisholm
Langham Castle Road, Woking, Surrey. GU21 4ES. Tel. 01483 715779 (Local Honey & Hive Products from Walton, Weybridge, Cobham, West Byfleet and Horsell)
Tim & Sally Hutchinson (Tel. 07954 988136 or 07758 739671)
Local honey from Chertsey, Lyne, Egham, Weybridge, Cobham, Sunbury & Knaphill.  For full product listings please see our website at www.beehappyproducts.co.uk
Barry Seaman
Kitsmead Lane, Longcross. 07956 359486 barryseaman@btinternet.com
If you are a WBK member and your retail outlet/house is not list please just get in touch with the WBK website content manager at weybridgebees.webcontent@gmail.com
Here are five good reasons to step away from the generic honey bear at your local supermarket and instead reach for a jar (or more!) of local honey.
1. Support your local beekeeper
Each spoonful of local honey you use helps keep local beekeepers in business. Beekeepers are passionately committed to their bees. Although there has been an increase in hobbyist beekeepers, beekeeping has dramatically declined in the UK and in the past one hundred years there has been around a 75% decrease in the number of bee hives. There are an estimated 274,000 honey bee hives in the UK; the majority of these hives are kept by approximately 44,000 amateur keepers. Most beekeepers just keep a few hives in their back garden.
2. Support pollination in your locality
Having fewer local beekeepers threatens local food production in gardens, allotments and on farms. Bees are essential for a healthy environment and healthy economy. One third of the food we eat would not be available but for bees and other pollinating insects. In the UK alone, about 70 crops are dependent on, or benefit from, visits from bees. In addition, bees pollinate the flowers of many wild plants and plants that become part of the feed of farm animals. The UK relies on bees and other insects to pollinate most of our fruits and vegetables. The economic value of honey bees and bumble bees as pollinators of commercially grown insect pollinated crops in the UK has been estimated at over £400 million per year.
3. Protect the environment
Since local honey doesn't have to travel far, you save energy, reduce your carbon footprint and reduce the amount of packing materials used to transport the honey. This all ultimately helps our planet.
4. Help with pollen allergy
Although the scientific research is lacking, anecdotal evidence suggests that local honey is beneficial for people with seasonal allergies. It should, naturally, come from hives within a few miles of where you live to ensure that it contains the pollen allergens that cause you trouble.
5. It is still pure and has not been heated to high temperatures
Most supermarket honey has been flash heated, that means heated to a high temperature and then cooled down quickly. By heating honey to a high temperature you lose a lot of the flavour and aromas, and some say goodness. Try a local honey and you will never go back – the taste is far better. Press reports also highlight how supermarket honey is often mixed with corn syrup and other non honey sugar syrups.
---