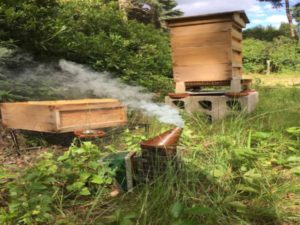 Registered and Partner Members of Weybridge Beekeepers enjoy a range of great benefits. 
By joining Weybridge Beekeepers as a full member your subscription benefits allow you to get advice, support and practical experience about keeping bees.
Annual membership provides you with our own monthly newsletter, membership of the SBKA and the BBKA (British Beekeepers Association), including BBKA News and a separate subscription to Beecraft digital edition) and Bee Disease Insurance (BDI) in case you lose your bees as a result of American or European Foul Brood diseases.
You will also have access to a range of equipment to hire including honey extractors, settling tanks and wax extractors.  The BBKA membership also includes Public Liability insurance.
Divisional apiary for members' hives (subject to availability)
Access to local swarms collected by members
and finally a great community of beekeepers. Read more here about membership; alternatively if you want to become a member email: weybridgebees.membership@gmail.com